AS 9100 Certified Precision Investment Castings Over 100 Ready to Pour Ferrous & Non-Ferrous Air Melt Alloys Producing cost effective, high integrity, complex castings for Aerospace and Defense Industries
Our experience and technical capabilities result in repeated conformance to the most stringent industry specifications and drawing tolerances. We welcome the opportunity to cast your complex components including those with complex cored passageways and undercuts. We have various grades of material that meet Aerospace (AMS), Military (MIL) and Federal (ASTM).
Technically advanced – we have produced over 8000 totally different casting configurations.
Certifications
ISO 9001, Quality Management System
AS 9100, Aerospace Quality Management System
AC 7004, Inspection & Test Quality System
AC7114, Nondestructive Testing, General
AC7114/1, Penetrant Inspection
AC7114/2, Magnetic Particle Inspection
AC7114/4, Radiography, X-ray
AC7102, Heat Treating, General
AC7102/2, Aluminum Heat Treating
AC7101/5, Hardness Testing 
AC7110, Welding, General
AC7110/5, Fusion Welding (Casting Repairs, GTAW)
AC7110/12, Welder Qualification
Download or Print the Certifications (PDF links on password protected page – opens in new window)
When sending us a file use the following as a guide:
Design and Tooling
Rapid Prototypes (3D)
Drawing Files (2D)

.X_T (Parasolid)
.STP (Step)
.PAR (SolidEdge)
.IGS (IGES)

.STL (Stereolithography)
.X_T (Parasolid)
.PAR (SolidEdge)
In-House and Special Process Capability
Heat Treating and Hardness Testing
Our heat treat operations are in-house saving you time and money. Our gas quenched vacuum furnaces for heat treating steel and our drop bottom aluminum furnaces are inspected regularly under strict accordance with the AMS-2750 Pyrometry requirements. With tight process controls and preventative maintenance and routine compliance audits your parts are always processed under the most strict accordance with all contractual requirements.
In-House supporting operations:
Harden & Temper
Precipitation Hardening
Homogenize & Solution
Rockwell Hardness Testing
T4, T430, T6, T61
Normalize & More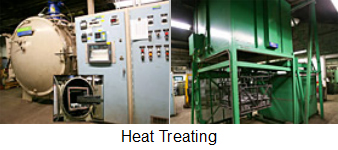 HIPping (Hot Isostatic Pressing)
Hot Isostatic Pressing (HIPping) is the simultaneous application of controlled heat and high pressure to improve the properties and eliminate enclosed sub-surface voids that may be associated with the casting process. The foundry employs industry leaders to perform this specialized process on highly critical applications.
Welding, Casting Repair
The foundry maintains qualified and certified welders and visual weld inspectors and is Nadcap accredited. When authorized Gas Tungsten Arc Welding (GTAW) in accordance with AMS-2694 and customer requirements are utilized to perform weld repair of all castings.
Rapid Prototype Castings
Aerospace grade rapid prototype castings from a CAD file (.STL or other files after translation) with a lead time of only four weeks. This reliable process will produce tooling grade metal castings quickly while still in your preliminary design stages of your project. This will help you to avoid expensive tooling changes and allow product engineers the proper amount of time to finalize the design.
Quickcast Prototyping
CastForm Polystyrene (PS)
Stereolithography Apparatus (SLA)
Thermojet Wax
Selective Laser Sintering (SLS)
Size and Weight Considerations
If your overall casting is 16" x 16" with a weight up to 85lbs – we have capability to meet your needs on a wide variety of components.
Dimensional Tolerances:
LinearTolerances
± .010 up to two inches (2")
± .003 per each additional inch
Flatness&Straightness
± .003 to .005 per linear inch
Parallelism and Perpendicularity
± .003 to .005 per linear inch

Angularity
± 1/2 °
SurfaceFinish
90 RMS
Concentricity
± .003 to .005 per linear inch
Ferrous & Non-Ferrous Air-Melt Alloys:
Precipitation-Hardening Stainless Steels
Austenitic Stainless Steels
Martensitic Stainless Steels
Carbon Steels
Tool Steels

Cast & Ductile Iron
Nickel-Base Alloys
Cobalt-Base Alloys
Copper-Base Alloys
Aluminum-Base Alloys
We have many different grades of material readily available in our warehouse. All of our materials meet a wide range of Aerospace (AMS), Federal, ASTM, Military (MIL) and other customer specifications.
Frequently Asked Questions
Is tooling required to produce investment castings? Yes, machined aluminum tooling is required but at a relatively low cost when compared to die casting or metal injection molding. We can also 3D print the wax and avoid tooling for small runs and prototypes depending on the requirements.
What is the expected tool life? If well maintained, tooling can last almost indefinitely. We continue to produce castings from tooling that was fabricated decades ago. 
Who owns the tooling?  Tooling is owned by the customer for their exclusive use but maintained by the foundry. In addition, we will accept transfer tooling with what usually amounts to only a minimum adaptation charge. 
What is the minimum casting lot size I can order? As a job shop, we are capable of supplying just one or two parts or filling orders for thousands. Since the size, alloy, and requirements of each casting vary, we do have a minimum ship lot charge. 
What is the typical lead time for a casting? If new tooling is required, samples are supplied in 8 to 10 weeks. After sample approval, production castings can be supplied in 8 to 10 weeks for commercial and 10 to 12 weeks for aerospace programs. 
Can I expect the same quality from an investment casting as I can from bar stock? Yes. Castings routinely meet the same mechanical properties that you would expect from wrought materials. 
Do you stock parts? Are long term agreements or contracts available? Yes, stocking programs and long-term agreements are available.
Quality Components – Dependable and Responsible – Competitive Pricing
We will always work hard to provide a good solution for your needs.