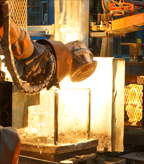 The Casting Company Inc, represents a world-class global leader investment foundry that produces Steel and Aluminum components.
Our capabilities include producing Aluminum, Low Alloy and Carbon Steel, such as 8620 and 4140, as well as 300 and 400 series Stainless Steel, 17-4 PH, Tool Steels, Nickel Base Alloys and Cobalt Alloys.
With our advanced processes, automation and proprietary technologies, we can reduce a standard 12 week industry lead time to one to four weeks, resulting in true just-in-time manufacturing capability.
We want to partner with you.
For more information, please call Brian Moore at 317-509-4311.
###