Proud to Make Gray Iron in the USA
Our engineering is CAD capability in Auto CAD — Solid Works — Solidification Modeling — Pattern Engineering.
We have capacity and can respond to your needs!
Low – Medium – High Volumes
Our Foundry is a Privately Owned (ESOP)
200,000 square feet
350 employees
Pour gray & ductile iron castings
Gray Iron – Flask sizes from 14″ x 19″ and 20″ x 24
Ductile Iron – Mold sizes from 25.6″ W x 21.1″ H x up to 18.9″ Thick
Melt capacity – 80,000+ tons / year
Hunter & Disamatic molding equipment
ISO 9001:2008 current certificate 11/15/12
Gray Iron – class 25, 30 and 35
Hunter molding machines (4)
Casting weights up to 40 lbs
Casting lengths up to 20" (500 mm)
High to low volume
Simple to highly cored casting designs
In-house core making
Primary Products Produced:
Water Jacketed manifolds
Bearing pillow blocks/flanges
Pump housing
Thermostat housing and bonnets for diesel engines
Hydraulic components
Mass dampers

Gray Iron Capability:
Quick Facts:
Gray Iron with weights 1lb to 40lbs – Minimum order is 2000 molds per year. We are competitive to volumes of 100K.

Market Distribution in Foundry for Gray Iron: Industrial 32% — Diesel Engine 14% — Pump & Valve 16% — Hydraulics 7% — Marine 5% — Automotive 2% — Misc. 20%.

Ductile Iron Capability:
Ductile weights of 1lb to 30lbs – Minimum of 2000 molds per year

Ductile Iron – grades 60-40-18, 65-45-12, 80-55-06

Disamatic molding machines (2)

Casting lengths up to 17″ (500 mm)

Market Distribution in foundry for Ductile Iron: Automotive 51% — Heavy Truck 9% — Diesel Engine 6% — Construction 5% — Pump & Valve 2% — Energy 8% — Hydraulics 3% — RR 5% — Misc. 11%

---
Green Sand Castings – Low to Med Volume Gray and Ductile Iron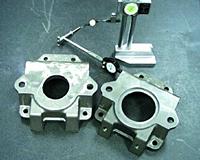 Do you need castings FAST or without Tooling. We can 3D print the mold and pour quickly. Do you need Service parts? We are good with your lower volume parts. We can make One casting or we can pour 500 per month, or 2000 or 5000 per year. If your production requirements go higher – we will adjust accordingly with our foundries. Pouring both Gray and Ductile Iron.
Manufacturing small castings from 1oz. up to 150Lbs.
Material Grades – typical ASTM materials used are Austenitic Ductile Iron – A571-71, Ductile Iron – A536-84 and Gray Iron – A48-83.
High Silicon High Moly Ductile Iron Available with tensile strengths from 20,000psi to 100,000 psi. and suited for castings requiring high strength and wear resistance as well as pressure containing castings used in low temperature service environments.
Spectrometer Analysis and Automatic Nodularity testing prior to pouring.
In-House Brinell Testing Capability – we verify material hardness for your applications.
Manufacture custom sand cast parts up to 28" in length, 28" in width and 14" in height.
Hartley Sand Control System to keep the sand quality consistent.
Producing Highly-Cored castings from Shell, Isocure Sand and without Core.
Automated Sand delivery and Mold handling systems. FBO-III Roberts Sinto Flaskless automated molding system allows us to run 20" x 24" Flask and can be up to 8" in both cope as well as drag. System regulates mold hardness and minimizes parting lines and core flashing which can reduce secondary finishing costs.
Separate storage facility built with fire resistant walls to keep your patterns safe.
Also, our green sand molding facility includes Rota-lift molding machines. Melting is done in two 4,000 lb capacity coreless induction electric furnaces. Once cooling is complete processing is done with grinding stations and spinner blast equipment.
Most repairs, mounting, rigging, gating of tooling is performed in pattern shop. We also
work closely with outside tool makers to create and modify patterns and core boxes to customer specifications.
---
We want to build a great relationship with you. You can trust us to build your production:
Crankshafts, Engineered Plumbing, Engines, Gears.
Compressors, Expanders, Construction Machinery.
Heavy Compressors, Impellors, Industrial Machinery.
Machine Tools, Light Compressors, Medium Gear Blanks.
Water Works, Ornamental, Pumps.
Valves, Street Lamp Posts, and just about whatever you can design.
---
Industries Served
Energy – Agricultural – HVAC – Construction – Marine – Military/MIL-Spec – Mining – Railroad – Appliance – Industrial – Building – Medical – Electrical