Stainless Steel, Molybdenum, Tool Steels, Tunsgten, ASTM F15 Kovar, ASTM F75 CoCr, Stainless, Copper Alloy Steels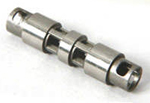 The Casting Company provides expert resources for all of your precision metal injection molding (MIM) needs. We specialize in projects that require complex custom injection metal moldings.
With the MIM process there is virtually no design restrictions or compromising. MIM is ideal for tight tolerance parts, customized metal alloys and complex shaped parts. The part you want is the part you get.
Facts About Metal Injection Molding
Metal Injection Molding can significantly add performance benefits by:
Shortening the development cycles
Reducing or eliminating secondary machining operations
Reducing or eliminating secondary finishing operations
Minimizing material waste – net shape
We incorporate production molding machines that range from 17 tons to 50 tons, capable of producing parts from a few grams to several hundred grams.
MIM Capabilities
Our Metal Injection Molding process provide a competitive advantage for our customers through its design freedom and flexibility, which allows for very close tolerances and reliability. In-house heat treatment capabilities include::
All types of Vacuum Heat treatments
We use microprocessor controlled vacuum furnaces for in-house heat
treatments
ISPEN Sealed Quench Furnace with tempering facility. This equipment
also is micro-processor controlled
Materials heat treated in-house
ISO/TS 16949:2002 certified quality system
Equipment includes:


6 Axis Sliding head CNC Automatic Lathe (CITIZEN) (1X)
DMC 55 H duo BLOCK – CNC Milling Horizontal Machining Centre
(1X)
CNC Milling 4 Axis machines (5X)
Makino Slim 3 – High Speed CNC machining center (1X)
DMG CTX alpha 300 – CNC Turn mill center (1X)
CNC Turn Mill center – Galaxy Machine Tool (2X)
Metal Injection Molding can help achieve a better casting solution for your requirements, including:
Lower cost
Shorten production cycles
High repeatability
Excellent surface finish
Minimal, if any secondary operations
Metal Injection Molding to Meet Your Needs
Metal Injection Molding works with a wide variety of industrial metals, including (partial list):
MIM 17-4PH (H900 and H1200 treatments)
MIM SS 420 (Vacuum heat treatment to 39~45 HRC range)
MIM 440 C (Vacuum Heat treated to 50~55 HRC)
Tool steels like MIM M2 and S-7
High Carbon steels like MIM 52100 for extremely wear resistant
materials
All types of low alloy, medium carbon steels, case hardening steels

We will be willing to work on R&D programs to develop special material through MIM if the commercial justification is available.
Injection Metal Molding for Many Industries
Major industries and markets we serve include:
Consumer Products
Industrial Products
Automotive
Medical
Defense products